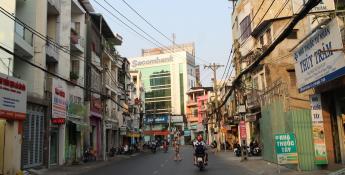 Photo © trungydang; Duong Huynh van Banh,phường 12, Phú Nhuận, Hồ Chí Minh, Việt Nam; CC BY 3.0
Wards 13 and 14, Phú Nhuận district, Ho Chi Minh City (Vietnam)
Ho Chi Minh is the largest city in Vietnam.  The metropolitan area, which consists of the Ho Chi Minh City metropolitan area, Thủ Dầu Một, Biên Hòa, Vũng Tàu, Dĩ An, Thuận An and surrounding towns, is populated by more than 10 million people, making it the most populous metropolitan area in Vietnam. The city's population is expected to grow to 13.9 million by 2025.
Wards 13 and 14 of Phú Nhuận district are very central in the metropolis; they illustrate well the many layers of identity in the city's historical development. The neighborhood's strong local identity is linked to the Catholic community that settled in the area in the 1950s following their escape from the communist regime in northern Vietnam. Once a swamp along the Nhiêu lộc canal, the zone was progressively upgraded in the ensuing decades and, as the metropolis expanded, became more and more central. Many families have resided in the local alleyways for several generations and are still active in the local Catholic community. The neighbourhood counts numerous churches and religious symbols in its alleyways and the local catholic authorities also continue to play a daily role in the management of poverty alleviation programs for instance.
Despite its high population density (around 11,000 people in 14 hectares in ward 13 for instance), the neighbourhood is relatively wealthy by Ho Chi Minh City standards; residents are, for instance, disproportionately employed as government officers. The neighbourhood also contains numerous colonial villas, as well as more recent buildings built by newer residents. Thus, the neighbourhood illustrates well the metropolitan diversification at play in Ho Chi Minh City today.
The southern border of wards 13 and 14 are defined by the edge of the Nhiêu lộc canal, whose banks and canal-side road were upgraded in the past years and have become a bustling commercial space lined with popular eateries, cafes and other businesses. A linear park that serves leisure needs for residents in one of the densest areas of the metropolis has also been built alongside the canal. Today, this project is widely celebrated as a symbol of Ho Chí Minh City's metropolitan renewal. Recently, newly renovated adjacent alleyways, whose names were historically associated with a street called Huỳnh Văn Bánh to the north, have chosen to take the name of the canal-side road – Trường Sa – which clearly symbolises how the neighbourhood wishes to be associated with the upgraded canal. With the rise in coffee shops and restaurants attracted by the renewed canal area, wards 13 and 14 are increasingly becoming a dynamic peri-central area, facing new development pressure, challenging both its historical urban pattern and socio-cultural identity.