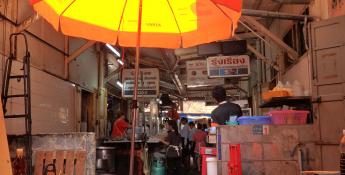 Photo: mohigan [CC BY-SA 3.0] https://commons.wikimedia.org
Wat Kae Nang Leong, Bangkok (Thailand)
Bangkok  is the capital and most populous city of Thailand. The has a population of over 8 million, or 12.6 percent of the country's population. Over 14 million people (22.2 percent) live within the surrounding Bangkok Metropolitan Region, making Bangkok an extreme primate city, significantly dwarfing Thailand's other urban centres in terms of importance.
Located in the heart of Rattanakosin Island, also known as the Old City of Bangkok, this community has a comparatively long history dating back to the reign of King Rama III (1824 – 1851). Locals from the surrounding neighborhoods know the "Nang Leong Community" as a place where one can find the finest local cuisines inside its crisscrossing alleyways. Almost as old as Bangkok itself, it has rich and complex multi-ethnic settlements. The community has gone through many phases of transformation beginning with the city's expansion toward the outer wall of Bangkok in the late 1850s, the construction of the city's first tram line making the community an attraction on the city's spine, and the building of many shop houses after the Second World War. The three decades following that last phase of development saw a famous street food market, temple, theatre, Bangkok's premier commercial college, national library, and the racecourse built in the community, drawing the largest urban settlement in the community's history.
Today, the community is facing a trilemma similar to many emerging "global" cities. Similar to what is happening throughout low-rise neighborhoods in the inner city of Bangkok, it is facing pressure from the Crown Property Bureau, the de jure owner of the land on which the community is located, to not only "beautify" but also to "renew" itself in order to yield more profit. Factors constituting to this trilemma include pressure to be developed into high profit-margin project with the arrival of the newly constructed metro system that will connect the city to the rest of Bangkok. The old community's concern over the loss of community identity and therefore its commercial uniqueness, and anxiety over the non-local residents moving into the area.