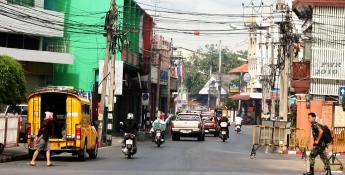 Photo: Wua Lai Road © ol'pete; CC BY-NC-ND 2.0 https://flic.kr/p/87E4k9
Wu alai, Chiang Mai (Thailand)
Chiang Mai is the largest and most culturally significant city in Northern Thailand. It is the capital of Chiang Mai Province. It is 700 km (435 mi) north of Bangkok and is situated amongst the highest mountains in the country. The city sits astride the Ping River, a major tributary of the Chao Phraya River.
Wua-lai is one of the oldest neighborhoods in Chiang Mai with the evolution of cultural heritages and its development brought into a mixture of different ethnic groups, creating diversity within the area both socio-economy and identity. The neighborhood has developed from time to time over 720 years, since King Meng-rai had found Chiang Mai in 1296 A.D. The area is an "in-between" space of inner and outer walls of the city which is a settlement village of craftsmanship families (ban) in silverware, bamboo and lacquerware, originally from Salawin river valley in Myanmar.
Unlike the life in the inner wall of old city (wiang) where royal families and elites lived in 13th up to 18th century, the life in area of Wua-Lai was much more of a local life where people helped building the city. The neighborhood and its kinship has its centre around two major Buddhist temples (wat) i.e. Wat Sri Suphan and Wat Muen San. Also the socio-spatial role of the area was gradually formed from small settlement to village (ban) and recently becoming an urban village (yān).
The unique characteristics of Wua-Lai as a "silver village" become famous since 1960s, following the government's policy to promote Chiang Mai as a main tourist's regional hub in Northern Thailand. The Saturday's walking street brought in tourists and new socio-economic image of the neighborhood area. The recent urban landscape transformation as well as the destruction of neighborhood's morphological patterns have raised much public awareness of the local cultural heritage. The city government have designated the neighborhood as 'Conservation Area for Thai Art, Culture and Identity'. The building regulations effected the area since 2012 in order to protect its urban and architectural characteristics.
However, the inhabitants have drawn more attention to the increased land and property speculation which affects neighborhood's social structures, cultural values and identity. The community craftsmanship centre was set by the local initiative to preserve the local skill and knowledge, as well as the image of the area as "Silver Village" of the past, keeping alive the ties of kinship.
Regarding the transformation of neighborhoods and the city as a whole, Chiang Mai has faced the accelerated urbanization over the last five decades, following the national economic development objective to develop Chiang Mat as the "second city" of Thailand. The newly infill developments and the tourist promotion projects bring more pressures to transform the neighborhood in question that is located in between the new commercial town in the east and the university town in the west.