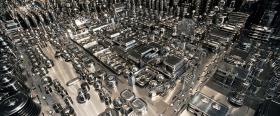 Zhan Wang, Urban Landscape Beijing, 2006, courtesy of artist
Does the 'Asian City' exist?
An online interactive lecture by Shiqiao Li (Weedon Professor in Asian Architecture School of Architecture, University of Virginia) in the framework of the IIAS/UKNA Asian Cities Presentation Series.
The lecture will take place from 15:00 - 16:30 p.m. Amsterdam Time (Central European Summer Time, CEST)
In this lecture, professor Shiqiao Li will argue that the normative methods of urban analysis are too narrow to account for the full realities of cities in Asia. While conceptualizing and guiding the construction of cities in Asia in specific ways, many of these methods simultaneously conceal qualities that do not match the provinces of methods. To frame this problematic, he focuses on three foundational concepts of the city in the Western sense – exclusive land ownership, divisions of labor, and primacy of architecture – by tracing their intellectual trajectories. Against this characterization, he will examine how cities can take shape with a set of divergent concepts that can be characterized by way of ancient and indigenous thoughts in Asia, enabling a meaningful understanding of "the Asian city". This divergence of urban thoughts not only would allow us to better explain – rather than dismiss – complex urban phenomena in Asian cities, but also offer insights into ways of building cities that aspire to a more viable planetary habitation.
The speaker
Shiqiao Li is Weedon Professor in Asian Architecture, School of Architecture, University of Virginia, where he teaches history, theory, and design of architecture, and directs PhD in the Constructed Environment Program. He studied architecture at Tsinghua University in Beijing and obtained his PhD from AA School of Architecture and Birkbeck College, University of London. Prior to joining University of Virginia, Li practiced architecture in London and Hong Kong, and taught at AA School of Architecture, National University of Singapore and The Chinese University of Hong Kong. Some of his design research and teaching is featured in Typological Drift, Emerging Cities in China (San Francisco: AR+D, forthcoming, co-authored with Esther Lorenz) and Kowloon Cultural District (Hong Kong: MCCM, 2014, co-edited with Esther Lorenz). His research contributes towards understandings of architecture as it is situated in indigenous cultural contexts. His books include Understanding the Chinese City (London: Sage, 2014), Architecture and Modernization (Beijing: WaterPower Press, 2009, in Chinese) and Power and Virtue, Architecture and Intellectual Change in England 1650-1730 (London and New York: Routledge, 2006).
The Webinar
The will be time for questions after the lecture.
Registration
You can join this live webinar by sending us your contact information via the registration form on this page. Two days before the start of the webinar, we will get in touch with you and provide you with access information and other necessary details.
NOTE: Please check your spam box if you can't find the instructions in your inbox.
Venue
Online access WEBinar, provided by IIAS
Netherlands