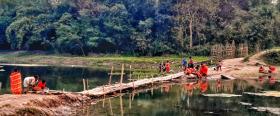 People washing food on locally made bridge over Anjana river near Chandandaha, Nadia. Photo: Sankha Subhra Nath, Dec. 2021
An enquiry into the causes of the vanishing Anjana River in West Bengal, India
An online interactive lecture by Sankha Subhra Nath in the framework of the IIAS/UKNA Asian Cities Presentation Series.
This lecture will take place from 12:30 - 14:00 p.m. Amsterdam Time (CET).
The Lecture
The delta region of the Ganga-Brahmaputra-Padma is characterised by very fertile land and a dense population. The State of West Bengal in India is part of this delta, also known as nadi-nala r desh (country of rivers and canals). A human-land-water nexus formed the basis of lives here. Currently, this nexus is nearly destroyed due to anthropogenic actions. This can be seen in a small tributary river called the Anjana, located near Krishnanagar, West Bengal. The river once catered to a thriving agricultural and artisan community. Over time, the river has been subjected to various anthropogenic actions that have led to its decaying state of today. Its traditional human-land-water nexus has been nearly broken. 
The speaker carried out research to understand why it has been broken through the lens of environmental governance. The study aims to find to what extent the five prerequisite conditions of 'effective commons governance' are satisfied for environmental governance of the Anjana River. An in-depth analysis of spatial, social, economic and environmental conditions over time was done to conduct the research. The results indicate that the five factors of effective commons governance, i.e., monitoring of resources, rate of changes, social capital, presence of outsiders and user support, do not affect environmental governance with equal intensity. The results also reveal the complex arrangement of resources, information and overlapping jurisdictions across different governance institutions, offering different opportunities and challenges for commons management. Alternative polycentric governance mechanisms like a nodi songsod or 'river council' are being investigated to resolve the situation. A process of 'commoning' has been attempted via these 'river councils' by assisting communities in securing the commons by forming inclusive local institutions to manage the resources and to work with the different governance institutions to gain stronger rights to the commons. These examples of water advocacy through participatory processes are trying to revive the human-land-water nexus in the region.
The Speaker
Sankha Subhra Nath (B.Arch Jadavpur University, Kolkata, India; Masters in Architecture CEPT University, Ahmedabad, India) recently graduated with an MSc in Urban Management and Development from the Institute for Housing & Urban Development Studies (IHS) at Erasmus University Rotterdam. He has 7 years of teaching experience as an assistant professor at Rani Rashmoni School of Architecture, Durgapur and Faculty of Architecture and Planning, Lucknow in India. He has been part of various studies in parametric architecture (2019) and architectural pedagogy in the Indian context (2017). He has also worked in mapping architectural characters of rural areas (2015). His current area of interest lies in land and water rights and the environmental governance of water bodies.
Registration
You can join this live webinar by sending us your contact information via the registration form on the IIAS website. Two days before the start of the webinar, we will get in touch with you and provide you with access information and other necessary details.
NOTE: Please check your spam box if you can't find the instructions in your inbox.