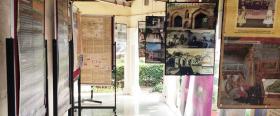 Heritage and infrastructure in the city. 5th Annual UKNA Roundtable
The 5th Annual UKNA roundtable took place in Delhi, India.
In December 2016, a five-day event took place in Delhi, India, entitled 'Revisiting Delhi: Urban Heritage and Civic Services'. The event was organized by UKNA partners Ambedkar University Delhi (AUD) and IIAS, in cooperation with Jawaharlal Nehru University (Institute of Advanced Study).
It included the 5th Annual UKNA roundtable on urban heritage and the need for a decentralized Delhi City Museum (two days), and a two-day seminar on the basic urban services in Delhi and the roles of citizens, state/policy and politics.
Read The Newsletter article, issue 77, Summer 2017
The social roles of academics: reflecting on the project of a Delhi City Museum
Venue
Ambedkar University Delhi (AUD)
India