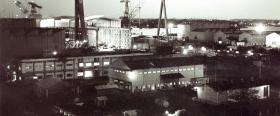 @ Public Relations Office, The Cochin Shipyard Limited
Kochi's changing shores: narratives of development, religion and urbanity in India
An online interactive lecture by Carmel Christy K J in the framework of the IIAS/UKNA Asian Cities Presentation Series.
This lecture will take place from 12:30 - 14:00 p.m. Amsterdam Time (Central European Summer Time, CEST).
The Lecture
Since the 1990s, neoliberal reforms in developing countries have created several identical pockets in the networked cities across the world. Despite these similarities, which resemble a uniform global market, it is impossible to miss every city's specificity in terms of geography, structures, and people. Geography and structures do not need to be viewed linearly as inert buildings but merge with the people in the city, such as the Marine Drive Walkway or Lighthouse in Kochi, which are like the living skin of the city through which people sweat and breathe as they wade through their everyday lives. A comparatively small port city like Kochi, whose development and growth is tied to boundaries beyond the land, can be seen as a continuum of urbanities in terms of its history, geography and people. The multiple geographies and structures, which consist of islands and the wetlands in Kochi, live a rhythm and flow by acquiring meanings and lives in relation to the people who inhabit these spaces. 
 
In her forthcoming book, Carmel Christy captures the embodied urban geography of Kochi by analysing its post-Independence development initiatives as well as its representative and artistic practices. Kochi's urbanity is conceived herein as an amalgam of its history, post-Independence structures, people's experience and imagery about the city. By adopting an interdisciplinary lens, the following are some of the questions that she asks in the book. How do communities along the shores of Kochi experience development? What do the negotiations between the various state, community and religious agents reveal about urban space-making in Kochi? How can one think about the methodological possibilities to understand development as experienced by people at multiple levels; and as the affective realm also shaping the city and the 'citi'zen in many ways? What would it be like to narrate a city as a seamless spatiality of people's experiences of development, literary texts, cinema and artistic practices?
The Speaker
Dr Carmel Christy K J is currently an International Fellow of the Urban Studies Foundation, Glasgow, affiliated to IIAS, Leiden, where she is working on her book. She holds the position of Assistant Professor in Journalism at Kamala Nehru College, University of Delhi. Her research on the politics of gender, sexuality, caste, religion, media and urban space broadly focuses on spaces and production of marginality in India. She completed her PhD from the Department of Communication, University of Hyderabad. Her first book, Sexuality and Public Space in India: Reading the Visible (2017), discusses the hyper-visibility of women's sexuality in relation to caste. She has held positions as a Fulbright-Nehru Postdoctoral Fellow at University of California, Santa Cruz (2015-2016), Charles Wallace Short-Term Research Fellow (London, 2017), Affiliated Fellow at the International Institute for Asian Studies, Leiden (2018-2019) and as a Postdoctoral Fellow at the CEM-FMSH, Paris (2019). 
The Webinar
There will be time for questions after the talk.
Registration
You can join this live webinar by sending us your contact information via the registration form on the IIAS website. Two days before the start of the webinar, we will get in touch with you and provide you with access information and other necessary details. 
NOTE: Please check your spam box if you can't find our email in your inbox.